Meet our founder
Dario Otero
Dario Otero's vision for Youth Lens 360 came from his own experience as a child lost in a blind spot within the educational system.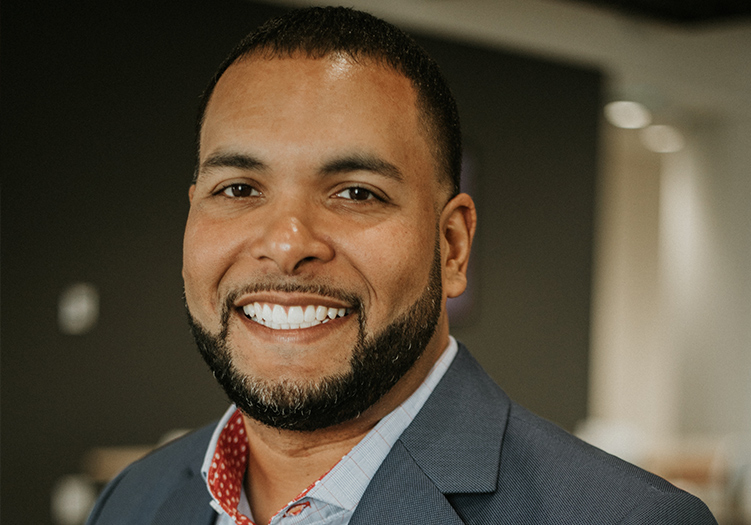 Youth Lens 360 is a video production company empowering youth as storytellers.
---
Dario Otero's vision for Youth Lens 360 came from his own experience as a child lost in a blind spot within the educational system. Youth Lens 360 is a video production company empowering youth as storytellers.
In first grade, Dario's challenges with dyslexia dramatically changed the course of his life. His loving parents — a Puerto Rican father and a Jamaican mother — empowered their son to think beyond the box that threatened to define his educational experience.
After his parents divorced, Dario moved to Farmington Hills, Michigan with his mother where he quickly gained recognition as a standout football player, but academic setbacks remained. Dario's learning disability put him in a special education classroom for the remainder of his school years. "With the exception of Mr. Gagnuik, nobody in education ever believed I would do something. What I am trying to do is believe in the talent most people don't even see," Dario said.
Motivated by his mother's entrepreneurial spirit, Dario embraced an opportunity that would take him from a struggling special education student to a successful entrepreneur himself — an internship.
While studying at Bowling Green State University, he jumped at the chance to join the High School for Recording Arts in St. Paul, Minnesota as an intern, but it wasn't long before he became part of the teaching ranks at HSRA.
As a special education paraprofessional and eventually a teacher, Dario developed an innovative video department that helped highly creative students with learning differences become visual storytellers and master communicators. The inclusive high school program allowed students to find their voice in education, learn skills that could spark a career path and chase their dreams. It also became the launchpad for Youth Lens 360, founded in 2016.
Youth Lens 360 harnesses the power of our local youth to impact organizations as they propel their futures.
"His passion is what makes him so good. He takes from his experience, makes it relatable and doesn't want other young people to go through the lack of support he didn't have. That's what fuels him," said Laschelle Jameson, 21, of Bloomington, who has been involved with Youth Lens 360 for several years.
"I've gained a lot more confidence. I want to be an advocate for other people and Dario taught me to talk myself up. It helps me get about any job," Laschelle added.
The proof is in the track record of the young and promising storytellers. Youth Lens 360 has landed big clients ranging from the Minnesota Department of Education, the Minneapolis and Bush Foundation, Greater MSP and TechStars.
As Youth Lens 360 grows to tell stories for organizations, the business has touched more than 5,000 Twin Cities youth and counting.
"I take forgotten, untapped and underrepresented talent into a new digital and virtual world," Dario said.
"They are on an even playing field with people in business right now, who see a cross-section where they can work with young people."
Dario is a trained participatory facilitator, creating welcoming spaces for safe conversations. The COVID-19 crisis has sparked his entrepreneurial ambitions once again, as Youth Lens 360 moves to creating more virtual experiences and dynamic video conferencing during a time of social distancing.
But perhaps among Dario's proudest achievements lie in the accomplishments of others. More than 50 young people who have worked for Youth Lens 360 have started their own companies, now entrepreneurs themselves.
The driving force for the future of Youth Lens 360 is Dario's own unshakable vision. Never forgetting the child in the special education classroom who once felt cast aside, he's forging a path for students much like him, who may not yet be fully seen for who they are or how they will change the world.
biography
I am marketing
director

interested in challenge

Mei cu postea gloriatur dissentias, ea eos mutat tamquam.
Tale vidit scaevola quo ut, quis nonumy ancillae has ea, his ut atqui percipit. Vis at verterem inimicus, cum ea simul latine facilisi, malis officiis repudiare ut qui. An eros sale illum mei necessitatibus.
Populo forensibus cum at, an sea discere delectus, an quo movet splendide instructior. Eum id euismod sanctus, movet eruditi.
Personal Info
CONTACT ADDRESS
Main skills
Sales/Marketing Strategy
Researching audience needs
Search Marketing: SEO & PPC
Strong communication skills
Event Planning
Presenting ideas and copy to clients
Influencer Marketing
Email Marketing, Design & Dev
Social Media (Paid & Organic)
Values
Good design is good business
Share knowledge, ideas and skills
Cultivate love for education
Get to the root of the problem
Listen attentievly
Keep it simple (my favorite)
Learn and be curious
Focus on the key inputs
find out more
My experience and years of education
Harvard University
Bacheloor of science
International School
Ignite Visibility
Customer Service Representative
Black Knight Financial
Creative Manager
Ignite Visibility
Art Senior Director
Titan Growth